Felix Rabinovich shares his diverse experience to aid CECS students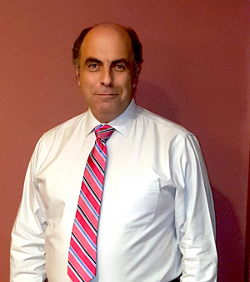 There's no telling where computer science will take you. Just ask Felix Rabinovich, a longtime member of the CECS Industry Advisory Board.
Rabinovich, who earned a degree in computer science in his native Latvia and came to the United States 25 years ago, began his career as a software developer, then expanded into IS management and business consulting. He has worked in fields ranging from biotech to financial services, from the insurance industry to retail, from aerospace to healthcare to public utilities, for companies like Deloitte & Touche, Andersen Consulting, Wellpoint, and Amgen.
Currently, as divisional vice president of ATIMS, he oversees a company that produces jail management software for sheriffs' departments around the country. And in that capacity, he has spent a lot of time at client facilities (i.e., jails).
"We're a small company, so when we went to production with a very large jail, pretty much everyone had to spend 12 hours onsite to relieve someone else," he says. "It was an interesting experience."
And Rabinovich, who had no public sector, correctional or jail management software background when he started at ATIMS, is putting that experience, along with the rest of his professional background, to good use. Their product, he explains, is like enterprise resource planning software, only for jail, and he is responsible for the company's entire operation, from business development and sales reports to professional development and finance and everything in between.
"Jail is a very complex enterprise," he says. "It's like a little town with high-level security. Sixty to seventy percent of inmates in county jail aren't sentenced and are taken to courts, and attorneys come to them. And the reason they're in jail is mostly because they were denied bail. So they're pretty nasty dudes and need to be kept separate from other nasty dudes. Plus jails have incidents. Jails have grievances against staff. And the whole enterprise is managed by our software."
For eight years, Rabinovich has also been sharing his expertise with CECS as a member of the Industry Advisory Board. His involvement was a direct outgrowth of the college's Honors Coop program, which places highly qualified students in year-long internships at local companies. While Rabinovich was at Amgen, an especially talented Honors Co-op student joined his team of software developers, and in the process of mentoring him, Rabinovich became acquainted with faculty members Gloria Melara, Bruno Osorno and Steven Stepanek, as well as Dean S. K. Ramesh, who had joined CSUN less than a year earlier. Ramesh invited him to join the IAB, and he accepted.
"I was extremely flattered and very honored," he says.
In the intervening years, Rabinovich has played multiple roles on the board and is currently its co-chair. His strongest interest, however, is curriculum guidance.
"The charge of the IAB is to make students ready for the marketplace as soon as they graduate, and that is something I feel very strongly about," he says. "I've seen the gaps in the knowledge of students who graduate from college and felt I could contribute to helping faculty bridge the gaps in the curriculum so students are much better prepared.
A perfect example is the new major in computer information technology, which the college is offering in partnership with the David Nazarian College of Business and Economics. Increasingly, he notes, organizations are opting for off-the-shelf software rather than custom software development. He feels that computer science graduates in the past have lacked experience implementing packaged software because their preparation has emphasized writing custom software. So the CIT major is ideal for producing students who are prepared to configure, implement and manage commercial software packages for their employers.
"It's an awesome way to prepare students to be business analysts or system implementers, and the need is huge," he says. "So there's a great opportunity to tweak the curriculum to meet the need."
Rabinovich particularly values the way IAB members share their perspectives from different organizations and industries and address different aspects of the college's needs. And he enjoys being in a position to help CECS students.
"CECS students really appreciate their education," he observes. "They have zero sense of entitlement and a huge sense of appreciation for the horizons that education opens up. It's a pleasure to help them and a privilege to be on the IAB."