DISTINGUISHED ALUMNUS IMPACTS INDUSTRY, COMMUNITY, UNIVERSITY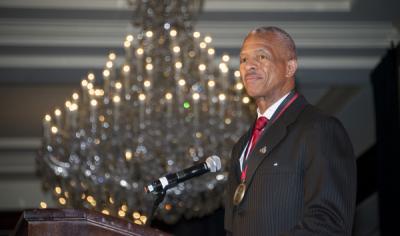 The encyclopedia salesman knocked on the door, and Geneva Williams answered. He gave his pitch, and then Geneva looked to her eight-year-old son, Robert D. Taylor, for advice.
Not a good investment, the little boy told his mother. But she decided to go through with the purchase, despite being cash-strapped. At some point soon after, Taylor decided he would become a scientist when he grew up. So he looked the profession up in the new encyclopedia, which prompted him to keep digging until he read about engineering.
"At that age, I knew I wanted to be an engineer," he said.
Forty-five years later, Taylor insists that he made his life plan then: earn an engineering degree, go to law school, create jobs and opportunities for African Americans and make a difference in society, all of which he has achieved. And on April 16, 2016, something he didn't plan happened: CSUN recognized Taylor with a Distinguished Alumni Award, one of the university's highest honors.

A MAN WITH A MISSION
Taylor's connection with CSUN began when he was drawn to the school's engineering program. In the early 1970s, Raymond Landis, a professor in the CSUN Department of Mechanical Engineering (and later dean of the College of Engineering, Computer Science and Technology at Cal State LA), had founded the pioneering Minority Engineering Program at CSUN, which became a model for similar programs around the country. Landis and the program's associate director, Rick Ainsworth, became mentors to Taylor and helped support his work.
"Right from the beginning, he was a standout," Landis said. "It was almost like he didn't need the program; the program needed him."
"He was such an outstanding young man—bright, motivated, caring. He set an example and was a role model for others."
After earning his engineering degree from CSUN in 1982, Taylor went to Stanford, where he earned an MBA and a law degree. That led him to McKinsey & Company, a worldwide management consulting firm, where he quickly climbed the ladder and eventually became the firm's only black partner.
Charles Schetter, a former senior partner at McKinsey, considered Taylor the glue of the company. "I entrusted to Robert the people processes for the several hundred people we had in the practice," he said. "Robert is a man of great empathy and an inspiring leader, and he is the person I wanted to be in charge of the care and feeding of our people."
In 1992, in the aftermath of the Los Angeles riots, Taylor felt a calling to help the community. Mayor Tom Bradley started the Rebuild L.A. initiative and placed Peter Ueberroth, 1984 Time magazine Man of the Year and former Major League Baseball commissioner, in charge of the effort. Taylor reached out and offered his assistance.
"We needed thousands of people to help us, but we needed some really key leaders—and Robert was one of the first to step forward," Ueberroth said. "He showed a calmness and a skill set that was very unusual, and it was key to our success."
It was through Taylor's work with Rebuild L.A. that he caught the eye of the National Urban League, becoming a longtime volunteer for the organization, whose mission is to enable African Americans to secure economic self-reliance, parity, power and civil rights. From 2005-12, he served as senior vice chair, the Urban League's most senior volunteer role.
Taylor also has been committed to serving his alma mater, as a member of the CSUN Foundation board and the CSUN Task Force on Engagement.
CREATING OPPORTUNITY
Taylor's numerous volunteer commitments have in no way diminished his passion for his professional work. One of the most influential African-American financial industry leaders in California, he cofounded two private equity firms, including Centinela Capital Partners, LLC, which has backed 46 new and emerging investment teams who have created an estimated $5 billion in value and unprecedented levels of diversity among their general partners. He is also a private equity investor and partner at holding company 3.5.7.11.
Upon receiving the Distinguished Alumni Award, Taylor thanked his wife and children, CSUN mentors Landis and Ainsworth, friends and colleagues and his alma mater. Most significantly, though, he reflected on what his mother did for him, and he shared the advice she gave him:
"Work hard. Be graceful. Believe in yourself. Stick together. Don't complain. Don't quit. And don't embarrass me by wasting the sacrifice I made for you."