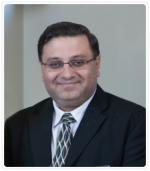 In 2014, a consortium led by Glendale Unified School District, including CSUN, the Burbank Unified School District, Glendale Community College and the Verdugo Workforce Investment Board, was awarded a three-year, $6 million California Career Pathways Trust (CCPT) grant. The purpose of the grant is to develop a K-16 educational pipeline in four clearly defined skill-based career pathways. At CSUN, work on two of the pathways—innovation and entrepreneurship, and digital manufacturing—is based in CECS. (The other two—animation and Web design—reside in the Mike Curb College of Arts, Media and Communication.) Shereazad Jimmy Gandhi, assistant professor of engineering management and director of the Ernie Schaffer Center for Innovation and Entrepreneurship, is spearheading the innovation and entrepreneurship pathway; Peter Bishay and Vidya Nandikolla, both assistant professors of mechanical engineering, are heading the digital manufacturing pathway effort on campus as well as the outreach efforts to other high schools in the area.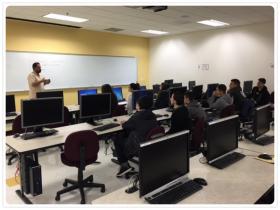 Year 1 of the project, which ended last June, was devoted to curriculum development and saw collaborative faculty teams developing the high school course materials for the pathways. The first module was implemented last fall, and modules 2 and 3 are being implemented this spring. Participating high school students are coming to CSUN on Saturday mornings for instruction by CSUN faculty—an arrangement that reflects the availability of labs and specialized equipment, such as 3D printers, on campus.
So far, student feedback indicates that the project is on the right track.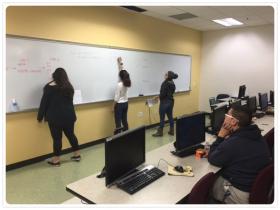 "We administered surveys at the end of the first module, and the students really appreciated the hands-on approach," Gandhi says. "They liked that it was not just solving problems from the back of a textbook."
Because consortium members are creating new curriculum, teacher professional development is a key part of the grant. CSUN is responsible for that component, so as a next step, faculty team members will hold a training academy for high school teachers on campus this coming summer.