Dear friends: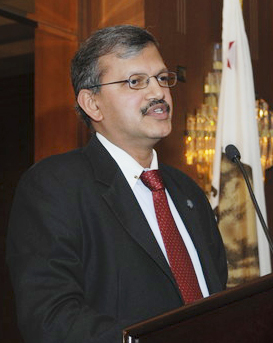 Dean Ramesh
I am delighted to share this issue of SPECTRA with you as we welcome a record 3,200 students to the college in the fall semester. These are truly exciting times in the College of Engineering and Computer Science, with sustained growth in all our academic programs, especially when you consider that our enrollments have increased by over 50% from just five years ago. Just as exciting, we are welcoming several new faculty colleagues who have joined us this fall and look forward to recruiting more new faculty to begin in fall 2012. In this issue we feature some of the tremendous accomplishments of our students, faculty and alumni, who exemplify the quality of our academic programs.
In other news, we received word from the U.S. Department of Education in October 2011 that our proposal to recruit and graduate underrepresented minorities in engineering and computer science was selected for a five-year, $5.5 million award under the Hispanic-Serving Institutions (HSI) STEM Initiative program. Together with our partners from Glendale Community College and the College of the Canyons, this is a great opportunity to make an impact on the graduation of underrepresented minorities in engineering and computer science, with a cohesive and holistic approach that engages all stakeholders. I look forward to sharing our progress on this exciting endeavor in future issues of SPECTRA.
As you read this issue, the campus is preparing for a transition in leadership with President Jolene Koester announcing her retirement at the end of the year. The culture of collaboration and teamwork that exists across the programs in the college, and indeed across the colleges on our campus, is President Koester's enduring legacy to California State University, Northridge. Under her leadership CSUN has grown from strength to strength with "regionally focused, nationally recognized" programs—and she will be greatly missed. We wish her the very best in her retirement.
As the college continues to grow, it is worthwhile noting that over 50% of our undergraduate students are minorities in engineering and computer science, many of whom are the first in their families to attend college. Imagine the possibilities as these students graduate from CSUN, turning "ideas" into "realities." Thank you for your generous support of our students and academic programs, and I wish you the very best in the year ahead!
Sincerely,
S. K. Ramesh
Dean