Why Culturally-Responsive Instruction?
Culturally-responsive instruction is essential in ensuring students in STEM reflect the general population. No matter how talented students are, if they do not feel that their gender or ethnic group is welcome or belongs in that major, they may not pursue a career in STEM. Training a diverse group of students offers the opportunity for workforce diversity, which has social and financial benefits.
Gender-diverse and ethnically-diverse companies are more likely to outperform companies that are less diverse: Read More
Having a diverse workforce can also make products better, serving a diverse customer base. Consider how,
Apple's Siri would be if it had more Women coders - And - Why Facial Recognition Tech Can't Figure Out Black People
How much better HP's face recognition would be if it had more African American coders: Watch
It's important to acknowledge that even when we have talented and qualified students from diverse backgrounds, they may face challenges in the job market. Below are some articles that provide insight into these challenges, including cultural fit and sexism:
The Lack Of Diversity In Tech Is A Cultural Issue (August 12, 2015): Read More
Can't hack it: Tech's diversity efforts are 'a failure' (January 19, 2016): Read More
Why Doesn't Silicon Valley Hire Black Coders? (January 21, 2016): Read More
Women considered better coders – but only if they hide their gender (February 12, 2016): Read More
Training Albuquerque's Native American youth to code: Learn More
---
Explore the various modules directed at faculty and course instructors, addressing culturally-competent instruction in a programming class.
Select a module you want to view:
---
Feedback Culture
As instructors, we want to be mindful of the feedback we give. Here are 5 Research-Based Tips for Providing Students with Meaningful Feedback
The heart of CS, and STEM in general, is solving problems. The process includes identifying problems, testing solutions, and making improvements. Thus, giving and receiving feedback is an important part of the culture of learning and innovation. At the beginning of the semester, make it clear to students that this class will focus on developing these skills.
Talking points:

Being receptive to feedback is an important life skill, and seen as desirable by employers.
In almost any job, people are expected to work collaboratively. How one respond to feedback from peers and supervisors affects their perceptions of one's capabilities.
Feedback lead to better products or outcomes.

Example: If you were to create an app, you want to make sure it doesn't have bugs, is user-friendly, is attractive, etc. It's important to get feedback from trusted colleagues before it is launched for mass consumption

Focus on how abilities are malleable, not fixed: Read More

Example: You're in this class because you're going to learn new skills and apply them. These skills and abilities are always developing, and requires hard work. Thus, feedback is an opportunity for improvement rather than an insult to your abilities or character.
When Responding to Negative Feedback
(Click image to enlarge)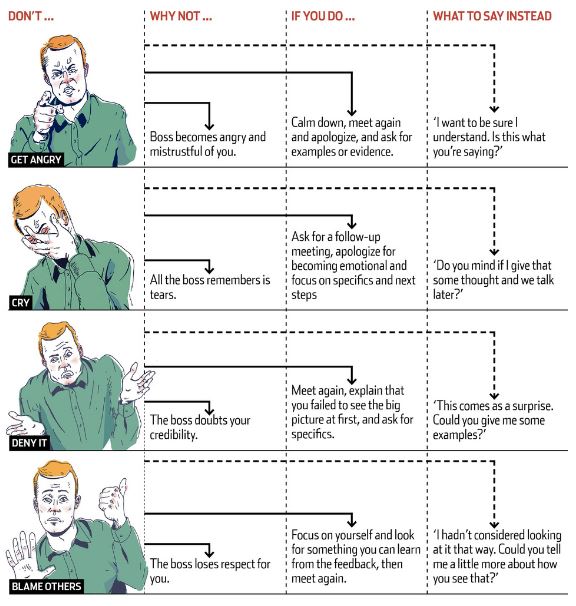 Image by James Sharp

---
Microaggressions
"Brief and commonplace daily verbal, behavioral, and environmental indignities, whether intentional or unintentional, that communicate hostile, derogatory, or negative slights and insults to the target person or group"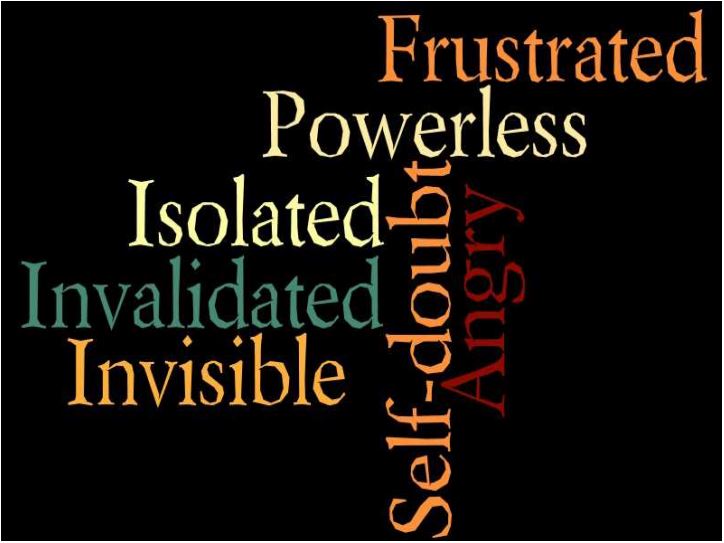 Materials for avoiding microaggressions during computer science instruction:
Download - Best Practices
Download - Presentations Slides
---
Stereotype Threat
Stereotype threat refers to being at risk of confirming a negative stereotype about one's group (i.e., women are not good programmers, African Americans are not intelligent.). Decades of research show that stereotype threat can undermine students' performance—even in subjects that they excel in.
There are several empirically validated strategies for reducing stereotype threat: Download

Click here to download Acrobat Reader
TIDES@CSUN has created resources that meet some of the effective strategies:
Strategy #7: creating a group project that profiles a successful minority leader/entrepreneur in one's field.
Strategy #10: Creating a positive feedback culture: Read More
Strategy #11: At the beginning of the semester, and throughout the semester, discussing malleable vs fixed abilities (also listed in feedback culture): Read More
Resources:
Background: Visit this link for more information

Walton, G., Cohen, G., and Steele, C. (2012). Empirically Validated Strategies for Reducing Stereotype Threat: Read More
Manfred F.R. Kets de Vries (2005). The Danger of Feeling Like a Fake. Harvard Business Review: Read More
Block, C. J., Koch, S. M., Liberman, B. E., Merriweather, T. J., & Roberson, L. (2011). Contending With Stereotype Threat at Work: A Model of Long-Term Responses. The Counseling Psychologist, 39(4), 570-600: Read More
---
Culturally Responsive Conflict Resolution
Promoting Peaceful Classroom Community
It is essential to create and promote a positive and peaceful culture within schools and classroom, especially when students are beginning to learn how to interact and deal with conflict. Teach students to respect diversity and be aware of harmful stereotypes and bullying.
Teach Social Skills
Teaching social skills to students is essential in helping them to learn peaceful conflict resolution techniques such as calming down (e.g. walk away, count to 10, etc.); communicating your feelings; and talking through the conflict to resolve. Students can also become involved with service learning projects in which they give back to their local community to gain compassion and empathy for others. Model and practice social skills, equality, and fairness when working with students.
Teach Anger Management
Teach students to be aware of how their body feels when they become angry. This will help them recognize their emotions so that they can learn how to calm themselves down and de-escalate before becoming aggressive.
Teach Students to be Peacemakers
The Teaching Students To Be Peacemakers (TSP) program offered by the Cooperative Learning Center of the University of Minnesota is a program in which students learn steps to resolve conflict peacefully through a cooperative environment. Students learn to be peacemakers in a supportive environment and the teachers implement the program by teaching the students the conflict resolution skills. These skills are consistently reviewed and built upon.
Read More
Create and Maintain a Culture of Peace
Involve students at the beginning of the year when developing guidelines for your "positive classroom culture." This encourages students to work together and listen to their peers' ideas and contributions, which promotes empathy and understanding of one another. Students will take pride in developing these guidelines and will be more likely to practice them.
Read More
---
Community Service Learning
"Making Service Learning Accessible to Computer Scientists." Brian J. Rosmaita.
This article provides an overview of the benefits and challenges involved in community service learning projects in computer science classes.
Read More
"Computer Science and service learning: Empowering nonprofit organizations through open source content management systems." Linda M. Seiter.
This resource describes how students can use free and open source software to build web sites for community organizations.
Read More
Service-Learning in the Computer and Information Sciences: Practical Applications in Engineering Education." Brian A. Nejmeh.
A book that provides a road map for service-learning partnerships between information science and nonprofit organizations: While service-learning is a well-known educational method for integrating learning experiences with community service, it is only now beginning to emerge in computer and information sciences (CIS). This book introduces a framework for service learning in CIS, addressing both the challenges and opportunities of this approach for all stakeholders involved—faculty, students, and community nonprofit organizations (NPOs), both domestic and abroad.
Read More
"Service Learning in Computer Science and Engineering." Leah H. Jamieson, Moderator.
A panel that includes students, professors, and community partners discusses various issues in service learning projects in computer science classes including how to fit it in the curriculum, the value of the soft skills often needed in pursuing these projects, and the competing agendas of the university and community partners.
Read More
"Incorporating service learning into computer science courses." Joo Tan, John Phillips.
This article provides excellent detail for professors interested in the design of specific types of service learning activities possible in computer science and describes how to deal with some of the challenges and the various benefits.
Read More
"Service Learning in Computer Science." Sonoma State University Center for Community Engagement.
This web site describes the two types of community service learning projects commonly done and provides examples.
Read More
National Service Learning Clearinghouse.
The Clearinghouse is the Nation's #1 library of service-learning resources. The Clearinghouse offers thousands of free online resources for K-12, higher education, community based organization, and tribal communities. You may search for background as well as specific resources.
Read More
Resources:
How community service option may be incorporated into a Computer Science course syllabus: Download

---
BaFa BaFa Multicultural Activity
The BaFa BaFa Multicultural Activity is a type of activity designed for industry to help promote cross-cultural understanding. In the activity, individuals are placed into two groups and assigned specific types of behaviors that they are supposed to follow based on group membership. The activity will take a whole class period (1 to 2 hours) and may work best in classes where you do require group work. Ideally the two groups work with the two groups individually. Alternatively, you can print out instructions for each group. The goal of the activity is to help students reflect on multicultural and group misunderstandings and dynamics.
Resources:
BaFa BaFa Simulation Instructions: Document Slides
Alpha Culture: Document Slides
Beta Culture: Document Slides
---
Women and Programming
Women More Likely Than Men to Leave Intro CS Courses Due to Teaching Style and Rigor
Read More
Diana Franklin. 2013. A Practical Guide to Gender Diversity for Computer Science Faculty. Morgan & Claypool Publishers.
Read More
Gender distribution of developers according to StackOverflow survey: Male: 92.8% Female: 5.8% Other: 0.5% Undisclosed: 1.0%
Read More
Professor Linda Sax from the UCLA School of Education and Information Studies presented the results of a study spanning several decades examining student confidence self-ratings across STEM majors.
Read More
---
Dimensions of Teaching and Learning
Explore, Engage, Challenge, Support, Elaborate and Evaluate. These words have become regular additions to the vocabulary regarding the education of students from kindergarten to graduate school. New national standards that emerged from the calls from the National Governors Association and the U.S. Chamber of Commerce resulted in the Common Core State Standards (aka College and Career-Ready Standards) assert that along the way to the workforce students must acquire the knowledge, skills and dispositions needed to become productive workers and financially-secure citizens. These four "soft skills" (4Cs) asserted by the P21 Initiative are: Communication, collaboration, critical thinking and problem solving. They are attributes that few professors in computer science would debate as being central to student success. Yet, the frameworks for assuring that diverse students acquire such skills have not explicitly advanced as promising pedagogy for higher education. Recognition of the gap in U.S. student achievement of the prerequisite skills needed to achieve in STEM college majors and careers indicates the need to create culturally responsive learning environments in classrooms and labs—that make it more likely that diverse students achieve and continue their trajectory toward productive careers. As engineering and technology have been advanced through the Next Generation Science Standards, it is clear that dimensional instructional models will be advanced. The Biological Science Curriculum Study (BSCS), a team led by Principal Investigator Roger Bybee, developed the 5-E Framework. It is included here to assist higher education faculty to take a reflective stance on the role of the college learner as relative to their style of instruction. The 5E framework focuses pedagogy on student learning that begins with engagement.
Download - 5E Instructional Model
The necessary dimensionality of instruction demanded by rigorous national standards is already having an impact on higher education. The lecture and the "blue-book" final examination is no longer the most often utilized methodology of student instruction and assessment. The importance is clear of adopting and integrating several forms of instructional pedagogy that commonly begin with direct instruction, but promote the engagement as defined in the 5e Framework. The paired-peer- methodology in the computer science laboratory course can be enhanced by framing curriculum and instruction to promote the levels of student engagement show in the Dimensions of Teaching and Learning figure.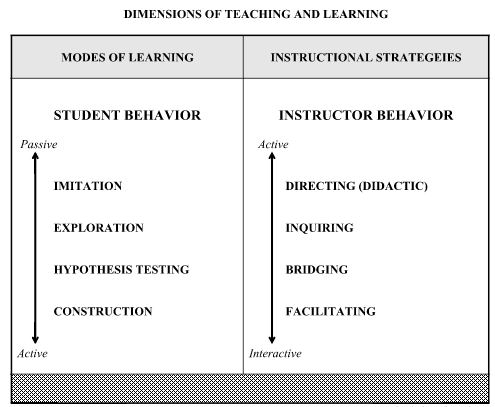 The Dimensions format assists faculty in identifying the key ways in which they can develop their instruction to facilitate active engagement of students. Offering open-ended lessons that promote exploration of new tools or apps, inquiry and research on issues and topics in technology, and hypothesizing how complex problems can be solved using existing or proposed technology tools assures that students are achieving at their highest potential. Faculty familiar with the team work of engineers and scientists will seek to promote student engagement in the "4Cs" the soft skills required in the workplace, by learning how to promote cooperative and problem based learning processes in their coursework. When instructors promote a classroom learning environment where there is 80-100 percent student engagement, they are able to move into the more interactive role of coach or mentor-checking in with students to listen to emerging ideas, help to problem solve, and assure that all are proceeding to the established learning objective or goal. The facilitator role becomes especially important when students perform at the dimension of active construction, as the instructor as expert this point-serving in the role of directing the innovators to resources and materials that assist them in their endeavors.
---
Confronting Convention in the Classroom Community—Promoting Social Resilience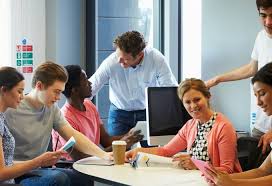 When we are successful in creating a sense of community in our classrooms we are often brought face-to-face with the need to resolve conflict. This is perhaps why so few faculty in higher education are comfortable in abandoning the perceived power they have when instruction principally occurs through lecture—and grades are earned through student performance on quizzes and examinations. And while there are no guarantees that conflict will not appear in the classroom where learners play a more passive, non-interactive role,
[Read more: Dimensions of Teaching and Learning]
faculty are generally able to quell the disruptions that occur when tempers do flare among college students.

The issue in this module becomes that of promoting student voice, autonomy, individual responsibility, and sense of belonging in a learning community. Each of these social concepts deserve lengthy attention-and have received such from scholars such as Noddings, Ladson-Billings, Henderson, and Gay [Read more: References on Student Engagment] . Therefore, this begins with a selection of definitions of the concepts that occur within the student centered classroom community and then includes effective tools for promoting the learner-centered learning community.

Resilience: a construct representing positive adaptation despite adversity

Voice: In education, student voice refers to the values, opinions, beliefs, perspectives, and cultural backgrounds of individual students and groups of students in a school, and to instructional approaches and techniques that are based on student choices, interests, passions, and ambitions. (The Glossary of Education Reform). Curriculum and instruction built on the foundation of promoting student voice develops markedly different programs and approaches than those based on the belief that students are quasi-machines (p.7).
Student voice is linked with motivation and engagement as both an artifact of these phenomena and as a means of promoting them. Voice-based instruction "frames the student not just as a creator of meaning but also as stakeholder and change agent. Seen as a vital, indispensable actor in the shaping of school learning contexts, students understood to be motivated by ethics of care, contribution, and compassion, along with understandable needs for self-satisfaction (Daniels & Arapostathis 2005; Fielding 2001; Heyman 2008; Mitra 2004) (p.7).

Confronting Convention: the need to promote voice, tolerance and compassion for the different views and needs of diverse classroom members is a key way to address and prevent the occurrence of conflict.
Read More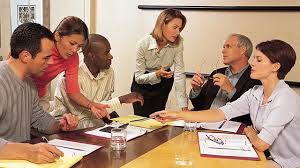 In a university setting as complex as CSUN-where the student body represents a microcosm of the world community, confronting sensitive issues such as race and social class can be difficult. The cultural diversity of our college classrooms increases the complexity of the instructor's tasks to accomplish the goals of the course—all the while assuring an equitable opportunity for each student to achieve. Whether the faculty who teach these classes are from the dominant culture of English speakers or from the tapestry of the world's ethnicities, the opportunity to engage students in creating community as they acquire the knowledge, skills and dispositions required to achieve the goals of our curricula, becomes important. Never before has it been so important to prepare our diverse female and male student population to fully participate as equal and productive citizens and employees in our classrooms, our multicultural society and the workplace.
[Read more: Why Culturally-Responsive Instruction?]
To accomplish this, instructors create classroom communities that welcome, understand and acknowledge the critical social issues that remain to be addressed as the ultimate goal of a democratic United States. Such classroom communities invite students from underrepresented minority populations (URM) who have faced experiences of social inequality due to their race, culture, class, or gender, to find safe and respectful space for their voice in the classroom.
Although we primarily approach motivation, engagement, and student voice sequentially, we see the three constructs as fundamentally interrelated. Each is built around or represents various experiences of human emotion, rationality or cognition, behavior or action, and socialization processes. For example, one can be motivated to learn based on feelings of inspiration or fear. That motivation can result in or be a product of opportunities to engage deeply in school, which in turn can create or be a result of students voicing their opinions on key aspects of their educational interests (Jobs for the Future, 2012, p.).
Read More

Effective tools for promoting, community and voice—and confronting conventions related to the issues cited above are best implemented at the outset of the course of studies. Team-building strategies along with the tools of collaborative learning enable the newly-assembled members of the diverse college classroom to understand the "rules of engagement" needed to assure a safe and productive learning community that welcomes, engages, challenges and supports each student as a welcome member of the learning community. Below are some effective tools to support faculty who wish to pursue the "Forming and Norming" stages of the learner-centered college classroom.
Read More
Celebrating Resilience – Confronting Convention by Telling Our Stories reframing the classroom narrative around our students
As mentioned earlier, educational resilience is a new concept resulting from the study of the phenomenon of psychosocial resilience in diverse, at-risk populations.
Among the at-risk populations studied (Rolf, Masten, Cicchetti, Nuechterlein, & Weintraub, 1990) are those who as children experienced families with histories of mental illness (Goldstein, 1990); of divorced parents (Wallerstein, 1983; Watt, Moorehead- Slaughter, Japzon, & Keller, 1990); exposed to high levels of maternal stress (Pianta, Egeland, & Sroufe, 1990); addicted to drugs (Newcomb & Bent ler, 1990); born at medical risk (O'Dougherty & Wright, 1990); exposed to family violence (Studies of at- risk populations, including those who "beat the odds" (NCEIC, 2012, p. 142).
Download - Syntheses Research Resilience
Unless there is a safe space in a learning community for the diverse members to "tell their story," we may never learn about and from the remarkable virtues of character that were developed by those who—despite struggles with the difficult home-school-community circumstances (along with those cited above) have achieved admission to a STEM major at the university. All students have to some degree struggled to acquire resilience. For some it is in defying their perceived inabilities or rejecting the stereotype threat Stereotype Threat often attributed to women and URMs regarding access to and success within STEM disciplines or as achievers in mathematics or computer science.
Masten, Best, and Garmezy (1990) have referred resilience as the "capacity for or outcome of successful adaptation despite challenging or threatening circumstances" (p. 425), They further note that resilience concerns "behavioral adaptation usually defined as internal states of well-being or effective functioning in the environment or both. Researchers agree that those who have achieved resilience have along the way found or developed "protective factors" that have somehow moderated "the effects of individual vulnerability or environmental hazards so that the adaptational trajectory is more positive than would be the case if the protective factor were not operational" (p. 426).
Faculty assure that there is collaborative discourse in their learning centered classroom by utilizing the tools of engagement provided in the earlier section. In addition, they can consider the principals of peer mediation as they seek to create community in which all voices count—and that community discourse results in the dignity and respect held for each member. Peer-mediated learning principles as defined by the Great Lakes Equity Center (2016) shown below are effective outcomes to be sought as outcomes of these tools.
Read More
Principle 1: We Learn through Active Engagement. In supportive classroom communities, diversity is embraced, learning is accessible to all, and self-determination skills as well as conflict resolution skills are valued and modeled.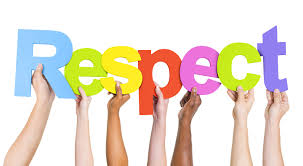 Principle 2: All Individuals Are Capable of Active Engagement. When we promote collaborative team work as a regular component of instruction we create experiences in which students' commonalities surface. Students learn that they can tell their stories within a setting of trust and respect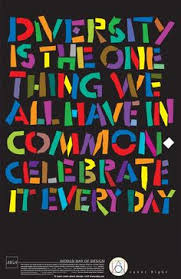 Principle 3: All Individuals Are Cultural Beings. As an example an activity called "culture circle" asks members of the community to bring an artifact to a class session that represents their connection to their family or cultural heritage. Within the safe learning context it is then possible to learn about each member while also acknowledging the similarities and differences among their respective cultures and lived family experiences.
As a community they may go on to recognize how each of them have and will continue to exercise their self-determination skills that strengthen their educational resilience with respect to the demands of their academic major. The learning community therefore should regularly draw attention to the members' "self awareness, self-management, and self-advocacy behaviors [needed] in order to promote student empowerment in self- and peer-supports" (Wehmeyer, Field, Doran, & Mason, 2004. p. 7).
Principle 4: Collaboration is a Priority.
Four recommendations are made within this principle:
1) Use Student-Driven Projects;
2) Advance Projects through Questioning;
3) Vary Grouping Configurations; and
4) Create Interdependence.
See the
Project Based Learning
module to learn how these are embodied in the design and implementation of PBL.
PBL Lesson Structures
---
Project Based Learning
In the previous module on Dimensions of Teaching and Learning it was shown that student engagement requires several components on instruction in order to assure effective learning for diverse students. Discussion was then focused on the need for collaborative learning structures of the BSCS 5E Framework advanced by NASA and originally created by Bybee.
The Confronting Convention Module suggested Project based learning (PBL) as an effective vehicle to teaching and learning that is intended to engage students in identification and investigation of authentic problems. Effective PBLs enable students to move from their customary roles as passive learners to become active learners as they identify topics of inquiry related to a problem, conduct investigation and research, and participate in hands-on activities.

PBL procedures, like the collaborative learning structures that support them, begin with careful instructional design by the instructor that launches the PBL with a compelling scenario or question. while the instructor may begin a PBL with direct instruction, students soon leave their passive role as listeners and embark upon exploration, brainstorming, questioning, problem posing and hypotheses-each providing direction to them during their project work. The qualification of letting student thinking drive the lesson is fundamental to successful PBLs.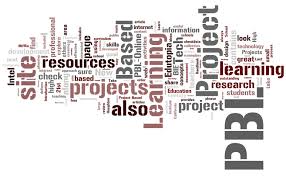 The PBL requires faculty to gain knowledge and ability in promoting student-centered learning and a positive learning community in their classrooms that directs students toward the resources needed to pursue problem solving. Because this is a new mindset for both instructors and students (roles for both students and teachers flip—with students becoming the most active players and the instructor becoming the facilitator and guide in a more interactive role) instructors can benefit from professional development workshops that introduce the structure of collaborative learning and the processes of PBL.

Students learn to inquire—then research and clearly define a problem, explore the probable solutions (exercising flexibility in thinking when more than one solution is proposed in a team, and learn to predict or hypothesize, conduct trials and improve their designs or products that meet the learning outcomes of the PBL objective. As the diagram below indicates, PBL begins with a compelling entry event that can take the form of a question or situation that is likely to promote EXCITEMENT. This is referred to as the anticipatory set, hook or launch question. Designing a launch question is important to capture student interest and excitement that assures motivation to persist throughout the PBL as a team member and individual problem solver. At this stage the Project Task is introduced and the teams are formed around the driving questions.
When well-crafted, the questions lead expert groups of students who elect to work on specific elements that require them to pursue research that informs them. Students become clear on the NEED TO KNOW as they seek out digital, print and classroom resources to build their knowledge base and offer them ideas on how to solve the PBL problem. Following the research by the Expert Groups, teams are once again formed with an "expert" on each element serving on the Project Team. Here students exchange the content knowledge derived from the earlier stage and begin drafting work on a product that will demonstrate their selected solution.
RELEVANCY is key to the ongoing work of PBL teams. The instructor here guides the problem solving and hypothesis testing that arises within each team. Students are encouraged to keep track of their data, record their designs (similar to the engineer's notebook) and even consult with other teams to assure they are pursuing probable solutions to the problem. It should be noted that this element of ENGAGEMENT is the very same process conducted by scientists and engineers that by the end of the course will enable students to apply the PBL structures both individually and collaboratively to real-world problems. Students will take increased ownership of their learning and will learn how many variable affect the anticipated outcomes and the countless prototypes that engineers and software designers face as the pursue solutions to real problems.


There are two significant online resources that guide K-12 and college-level educators in PBL structures, sample lessons and assessments: EDUTOPIA, a free resource and the BUCK INSTITUTE (offers fee for service PDs) should be consulted regularly as they provide a wide array of resources for effectively engaging students in the in-depth inquiry, voice and choice and reflective practice required for effective project or problem based learning.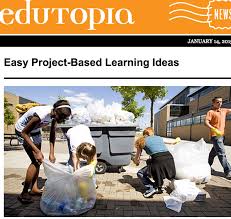 Edutopia asserts that computer science is one of the most important disciplines to be pursue through PBL. U.S. Bureau of Labor Statistics, asserts that"by 2020 there will be 1.4 million new computer science jobs. However, between current professionals and university students, we will only have 400,000 computer scientists trained to fill those roles" EDUTOPIA.
Read More
A PBL Template
Belgrad has developed a helpful template that guides the professional development of faculty in a simulated PBL that integrates cooperative learning authentic assessment and 21
st
century skills in its design.
Download - Problem-Based Learning Lab Overview
The "Human Graph" Strategy
This is a highly effective tool to organize participants so that you have a "mixed knowledge or heterogeneous ability" character to each of the teams or groups formed.
Here are the steps to this strategy:
Ask participants to reflect on their level of knowledge or expertise in the topic to be focused upon in the activity. For example, comfort in you knowledge about the laws of physics).
Identify a space in the room or corridor that is long enough for the participants to line themselves up from 1–Strong comfort in knowledge to 5—Very tentative comfort in knowledge.
Confirm that participants have placed themselves correctly. Then FOLD the line from end to end by bringing the person at the furthest "1" around to the person at the furthest "5". Then have them face one another. To select groups of four divide by quads and ask them to return to their seats to gather belongings so that they may move to a designated workspace.
Reflections on Transfer/Application: How might you utilize this strategy in the college classroom when introducing or culminating a unit of study?
Research on PBL
Students learn the key skills of problem solving progressively, starting with simpler applications through to more complex problem solving. Specifically, the approach orients students "toward meaning-making over fact –collecting (Rhem, 1998). However, much of the recent literature clearly articulates the pedagogical approach and specifically discusses it in relation to various fields of inquiry.
The advantages of project work in computer science courses , such as the increased engagement of students and the relationship to professional practice,are well understood (Fincher & Petre, 1998). Thus it is common to assign projects as a way for students to illustrate their learning, and indeed to assess that learning.
Many of the courses, such as programming or software engineering courses, are essentially courses designed to teach problem solving. With the rapid advances within the field, it is also of particular concern that students understand how to be good independent learners. We will particularly value a pedagogy that results in graduates who are able to educate themselves about new technologies and integrate them into their repertoire of problem-solving tools.
---
Some More Pratical Tips and Resources
Myths about CS education: Read More
AAC&U TIDES Guide to Identifying Culturally Responsive Teaching in Undergraduate Computer Science Classrooms: Read More
Introducing Computer Science Majors to (the lack of) Diversity and Inclusivity" by David Largent : Read More
Classroom activities, research presentations, and colloquium techniques: Read More
---
Collaboration and Reflection
Time: 1.5 hour activity that can be used in class, seminar, or lab
Purpose: To promote mindful collaboration and reflection on incorporating others during collaboration
This module was designed to help promote mindfulness in collaboration. In collaboration, the focus is often on the end product rather than the interplay between the individuals involved in the collaboration. Specifically, this module helps students reflect on how they may unconsciously shut down or encourage teammates' participation. Aspects of collaboration that go unnoticed, such as subtle nonverbal cues and allowing space for others' to struggle through a problem rather than taking over and completing a task, may be of particular importance to individuals from underrepresented groups such as women and Latina/os. For example, an analysis of Latina and European American students' collaboration found that White middle school age girls sometimes missed nonverbal bids to communicate made by Latinas (Ruvalcaba, Werner, and Denner, 2016).
The flexibility required to collaborate with others of diverse backgrounds and of different levels of skill is not only important for diversity, but may be key for promoting success in fields that rely on collaboration.This ability to read others and sensitivity to other's participation skill is becoming increasingly important as teams in the U.S. become more diverse and more likely to include international collaborators. Groups where partners' are more aware of including all partners' tend to have a higher collective intelligence and these groups often produce better end products than groups that don't and have only one lead team member (Woolley et al., 2010).
Currently, many studies have explored the use of same gender pairs to avoid some of the issues that arise in mixed gender groups. Same gender pairs tend to build on each other's contributions by building on partner's contributions. Research regarding ethnic difference in collaboration still poses a question on integrations and is only emerging in computer science education. It has been noted that Mexican-heritage children more often move in fluidly with anticipation of partner needs compared than European American children who more often emphasized turns in their collaboration (Ruvalcaba & Rogoff, in prep).
Preparation for Activity

Predetermine how you will pair students. Use criteria you would like to be the focus of your activity. If you have enough women, perhaps you'd like mixed (or same-gender) groups. Alternatively, perhaps you'd like to groups students by ability. A third option is to have individuals find someone from a different cultural background.
Choose a class activity you would like students to work on during their time in pairs. The activity should be difficult enough to be a challenge for your students.
Make sure you take some time reflect on your own experience with collaboration. Was there a time you did not enjoy collaboration? Do you tend to take over projects or let other's take the lead? Sharing your experiences and how you learned to collaborate tend to be help students share their own experience during the discussion portion.
Instructions for Activity
Student Instructions

Explain to the students the importance of collaboration as a skill to fields related to the class topic. Ask the students to get into pairs. If you decided on assigning pairs, put the pair list on the projector. If it is a large class, you may want the students to pair based on some type of criteria (e.g. same gender, different gender, different ethnicity).
Explain that they have 20 minutes to work on on the assigned activity. However they have a few rules they must follow:

"You cannot ask me any questions. I want to see how you figure out these problems on your own."
You must switch every 5 minutes during the 20 minutes. A timer on the projector may help the students remember.

"You must switch every 5 minutes. I will remind you to switch every 5 minutes to help remind you to switch."
At the 20 minute mark ask the students to stop and allow the students to take 5 minutes to write down some notes about their experience. Make sure to explain, "Take some time to write whether you felt included and what you did to make sure your partner was included." It may help motivate students to put more effort if you give them credit for turning in this reflection.
After the students write for 5 minutes, explain to the students that they have another 20 minute section of time, but this time they can work on the activity in any way they see fit.
After this final session. Ask students to form groups of 4. You can ask students to form groups in 2 ways. (A.) Groups of 4 cannot include their pair partner. Not including the original partner in the group may promote honesty in sharing experiences. Alternatively, (B.) Stay with your partner and find another pair to form a group of 4. If the pairs are honest, hearing their partner's experience may be key to helping individuals reflect on how inclusive they are during collaboration.
Step 6 is an excellent time to share some examples of times where you had a difficult time working with others and times where you had a great experience. Direct them to discuss how they felt they included each other and whether they felt included. Give them about 5-10 minutes depending on how much time you have left in class. Then ask some students to volunteer what they discussed.
How did the collaboration experience go for you?
In the second round, Did you feel you had an opportunity to contribute?
In the second round, How did your partner make it easy and difficult for your to participate?
What did you do to help your partner participate in the second round?
How did the timed turns feel?
Do you have an experience where you felt someone took over or where you took over a project? How can we move away from this?
What advice do you all have for those who have a hard time collaborating?
What did you realize about your approach to collaboration?
What might you need to work on to make others comfortable with participating?
---
Image Preview