Dear friends,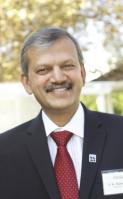 Welcome to our fall 2012 issue of Spectra. Change is in the air as this issue goes to press. Dr. Timothy White, chancellor of UC Riverside, has just been named the new chancellor of the CSU system, and here at Cal State Northridge, we have welcomed President Dianne Harrison, who took over the presidency earlier in the summer. President Harrison brings a wealth of experience in higher education and a bold vision to inspire CSUN to greater success in the years ahead. This is timely and relevant and has the potential to transform our university as we continue to make a significant difference in the lives and careers of our students.
Closer to home, the college welcomed seven new faculty members this year, and together with the four who joined us last year, we have now hired a total of 11 faculty in the past two years. The energy and enthusiasm that our new hires bring to the college is palpable,
and I invite you to read their profiles in this issue and meet them when you get a chance. Our enrollments continue to grow, peaking at 3,359 students this fall, with mechanical engineering (872 students) and electrical and computer engineering (858 students) among the largest in the college. When you consider that hardly five years ago, we had 2,000 students in the college, you can understand the challenges we face as we continue to grow. Nationally, ASEE and the President's Council on Jobs and Competitiveness have launched a partnership to measure, evaluate and celebrate excellence in retention, graduation and diversity in engineering education. The effort is intended to further the council's goal of seeing at least a 10% increase in engineering graduates over the next decade. We are certainly doing our part to support this partnership here at Cal State Northridge, where we graduated over 550 engineers and computer scientists this spring, over half of whom earned master's degrees.
With a "can do" attitude and support from donors and our partners in industry, we tackle the challenges before us with a spirit of optimism and purpose, always keeping our students first and foremost in all our activities. It is wonderful to see our faculty and staff work together to support our students and the high-quality programs that we offer, despite the budgetary challenges that confront us all. A year from now we will be hosting our next ABET accreditation site visit to review six of our undergraduate programs, and the college has been busy preparing for the visit. Meanwhile our signature events, such as the Annual Project Showcase and the biannual Tech Fest, have been growing from strength to strength, once again demonstrating the quality of our programs and the successes of our students. Our faculty are competing successfully for research grants and contracts, with over $2.7 million in awards in 2011 and $2.2 million to date in 2012. In this issue of Spectra, I hope you enjoy reading about the remarkable work that our faculty and students are engaged in and the impact it is having.