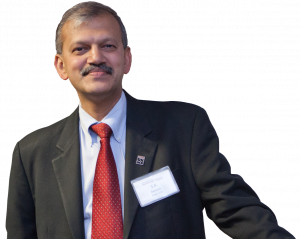 Welcome to the latest edition of Spectra! It has been another exciting year in the College of Engineering and Computer Science, and I am delighted to share the successes of our students and faculty. Student success is our top priority at CSUN, and under President Harrison's leadership, we are doing everything we can to support our students to be successful in their lives and careers. Our students are doing a spectacular job in regional and national competitions, earning laurels for their hard work and dedication. Industry has noticed, and the headline stories in this issue highlight the value and significance of our partnerships, which are a strong testament to the quality of our academic programs.
This was a busy year for our faculty and staff as we hosted ABET for a site visit in fall 2013 for a review and reaccreditation of six undergraduate degree programs in our college. The review team complimented us on several strengths, including the quality of our academic programs, our students, our ongoing efforts to enhance student learning, the dedication and commitment of our faculty and staff, the outstanding support we receive from industry, and our excellent labs and facilities. The visit was very successful, and we will officially hear from ABET following the Commission meetings in summer 2014.
Our overall enrollment was close to 4,000 students in fall 2013, and we continue to graduate approximately 500 students every year with bachelor's and master's degrees in a wide array of disciplines in engineering and computer science. Among other firsts, we graduated our very first cohort with master's degrees in assistive technology engineering in fall 2013—many of whom were receiving career offers within days. With the exponential growth of the college, we are actively recruiting faculty in all our departments, with eight open searches as of now. Programs such as Tech Fest, the annual Senior Design Project Showcase and the Brown Bag Research Seminar series provide a strong foundation to strengthen collaboration with industry. We are working with LACI (www.laincubator.org) to establish a satellite incubator on campus to promote startups in a variety of areas. Also in this issue you will enjoy reading about faculty who are exemplary teacher-scholars, engaging students in exciting research projects and enhancing their learning experiences. We have been averaging approximately $2.5 million annually in research grants and contracts over the past two years and expect that we will continue to grow and expand our efforts in the coming year.
Much of what we do in the college would be impossible without the dedication of our faculty and staff and committed support from our numerous alumni and donors. The alumni networking event in fall 2013 was a great success, with over 100 alumni participating. Our alumni are our "eyes and ears" in the community, and we are working to establish a strong alumni chapter to engage them in the coming year. We are looking forward to another record-breaking year as we continue in our quest to serve our students with academic programs of the highest quality! Thanks once again and happy reading!