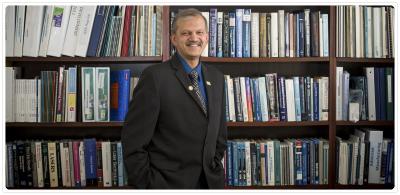 I am very pleased to share this issue of Spectra with you, which highlights the terrific work and accomplishments of our students and faculty. We are truly fortunate to have recruited another great group of faculty last year, with nine new colleagues joining our programs. Their energy and enthusiasm and their commitment to working closely with our students to improve student success and learning bodes well for the future.
From award-winning projects to cutting-edge innovative research, a rich array of programs have punctuated the past year. The lead article, titled "The Beat Goes On in Redesigned Programming Class," describes an innovative and collaborative endeavor between computer science and music, led by professors Ani Nahapetian, Gloria Melara and Ric Alviso. It is funded by a prestigious grant from the AAC&U and the Helmsley Trust and is already having a positive impact on student learning and retention. Our faculty has also led the way in collaborating with the K-14 community to attract students to STEM disciplines through impressive programs such as the Verdugo Creative Technologies Consortium, funded by the California Career Pathways Trust. Through this multi-institutional, grant-funded program, led by Professor Jimmy Gandhi from our engineering management program, hundreds of high school students are learning about high-wage, high-growth careers in fields such as digital arts, manufacturing, innovation and entrepreneurship. And finally, the college's collaborative AIMS2 program, now entering its final year, was recognized in 2015 as a Bright Spot in Hispanic Education by the White House Initiative for Educational Excellence for Hispanics—one of 230 "bright spots" across the country that are exemplars of programs that are lowering barriers and effectively addressing the needs of underrepresented minorities in STEM disciplines, and in engineering and computer science in particular.
This has been a tremendous year for several of our student teams as well, including the 2015 Intelligent Ground Vehicle champion "El Toro," led by Professor C.T. Lin from mechanical engineering and carried out by his interdisciplinary student team, and the "Hybrid Layer 3D Printer," led by Professor Bingbing Li and executed by students from our manufacturing systems engineering program, which walked away with the honors at the 2015 Small Manufacturers' Institute design competition, to name just a couple. Indeed, when we had the honor of hosting CSU Chancellor Tim White and Executive Vice Chancellor Loren Blanchard during their recent visit to CSUN, our students did a magnificent job of showcasing the innovative work that they do through many of these award-winning projects. The college's seventh annual senior design project showcase, scheduled for April 2016, will feature over 30 exciting student projects, building on the traditions of success that we have cultivated over the years. Furthermore, our undergraduate programs in computer information technology and engineering management are gearing up for ABET accreditation in the coming year, to add to the high-quality accredited programs that we already offer.
As I was closing this piece, I was reflecting on what a great year we have had and realized that this also marks a decade since I joined CSUN. We have come a long way over the years, thanks to the exceptional work by our faculty and staff in serving our students. I am confident that we will continue to make enormous strides in the years ahead.