S.K.RAMESH, Ph.D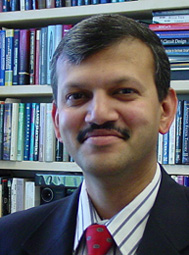 &nbsp&nbsp&nbspS. K. Ramesh joined California State University, Northridge in August 2006 as Dean of the College of Engineering and Computer Science and as a Professor of Electrical and Computer Engineering. Prior to joining CSUN he was Professor of Electrical and Electronic Engineering California State University , Sacramento where he served as the Department Chair since 1994, leading a department with 20 full-time faculty members and over 600 students. He led the CSUS EEE department through two successful ABET accreditation visits in 1997 and 2003 with a strong outcomes based program.
&nbsp&nbsp&nbspAlso at CSUS he served as Special Assistant to the Provost/Vice President for Academic Affairs and provided continuing leadership for the University Initiative on Information Technology with a priority on the promotion of faculty to engage in applied, sponsored research and contracts. In 2003 he served as Special Assistant to the President and helped showcase the University's capacity in Information Technology to businesses and industry in the region. Ramesh has held positions of increasing responsibility within the IEEE ( Institute of Electrical and Electronic Engineers) at several levels including Chair of the Central Area of IEEE Region 6 serving over 20,000 members from 2000 - 2004. He has served as the President of the CSUS Sigma Xi Chapter, the Scientific Research Society, and served as a member of several boards including the Sacramento Area Regional Technology Alliance ( www.sarta.org ) SARTA and McClellan Technology Incubator ( www.mtisac.com ) MTI, which emphasize job creation and helped foster the growth of the high technology sector in the Sacramento region. He helped establish numerous partnerships with industry and government including the Defense Microelectronic Activity (DMEA). This partnership resulted in the loan of over $ 1 Million worth of optical engineering and clean room equipment for use by CSUS students and faculty. Previously he served on the Board of Directors of Capital Public Radio from 1997-2003. He has been recognized with several awards for Outstanding Teaching and Community service including the 2004 IEEE Region 6 Community Service Award and the 2000 Person of the Year Award from the Sacramento Engineering and Technology Regional Consortium.
&nbsp&nbsp&nbspRamesh has taught courses in Optical Engineering in the Distance Education Program, and Analog IC Design and is presently authoring a textbook on Fiber Optic Communications (John Wiley Publishing). AT CSUS he teamed with other ECS faculty to offer the successful Fundamentals of Engineering course to qualified high school students and has also pioneered and offered a nationally recognized high school teachers workshop ( www.ieee.org/eab/fcc ) since 1999 to promote engineering education in the K-12 pipeline. His research interests span the areas of high speed (Terabit/sec) optical communication systems, devices and electronic circuit design. He has several publications to his credit in these areas including a book chapter. Ramesh graduated with the B.E. degree (Honors, 1981) in Electronics and Communication Engineering from the University of Madras, India, and received the M.S.E.E. (1983) and Ph.D. (1986) degrees from Southern Illinois University, Carbondale . Prior to joining CSUS in 1987, he was a Visiting Professor at Southern Illinois University, Carbondale .